How to write Terms and Conditions for a mobile app
Sample Terms and Conditions Template
A Terms and Conditions agreement includes the terms, the rules and the guidelines of acceptable behavior, plus other useful sections, to which users must agree in order to use or access your website, mobile app or Facebook app.
Contents
A Terms and Conditions can be used for both your website and your mobile app, only for your mobile app or only for your website.
It's not required or recommended to have separate Terms and Conditions agreements, one for your website and one for your mobile app.
This agreements act as a contract between you (the company) and the users who are using and accessing your web site.
The simplest definition for this kind of agreement would be:
Terms and Conditions are rules which one must agree to abide by in order to use a service.
Use the Terms and Conditions Generator to create your own Terms and Conditions agreement.
Terms and Conditions agreements are also called Terms of Service or Terms of Use agreements:
A Terms of Service Agreement is a set of regulations that users must agree to follow in order to use a service. Terms of Use is often named Terms of Service and sometimes Terms and Conditions, as well as Disclaimer, mostly when addressing website usage.
If you're looking for the template, download the Generic Terms and Conditions template. It's free.
This kind of agreement can be used regardless of what platform your business operates on:
Desktop apps usually have an EULA agreement instead of a Terms and Conditions agreement. EULA stands for End-User License Agreement.
Mobile apps are increasingly using Terms and Conditions instead of EULAs.
What To Include In Terms And Conditions
What to include in a Terms and Conditions agreement depends on your business, what you want to cover (rules and guidelines) and your website or mobile app functionalities (registered accounts, etc.)
A few examples:
The Intellectual Property disclosure will inform users that your website, logo and visuals and other content you created is your property and protected by copyright laws
A Termination clause will inform users that their accounts on your website (or their access to your website, if they don't have an account) can be terminated in case of abuses
A Governing Law informs users which country's laws governs the agreement. This is the country in which your company is headquartered or the country from which you operate your web site.
A Links To Other Web Sites clause informs users that you are not responsible for any third party web sites that you link to from your website, and that users are responsible for reading these third parties' own Terms and Conditions or Privacy Policies.
Here is how the Terms of Use of BBC informs that trademarks, design rights and other intellectual properties belongs to BBC:
BBC clearly mentions that all content belongs to BBC:
4.1 Rights in BBC Online Services and BBC Content

All copyright, trade marks, design rights, patents and other intellectual property rights (registered and unregistered) in and on BBC Online Services and BBC Content belong to the BBC and/or third parties (which may include you or other users.) The BBC reserves all of its rights in BBC Content and BBC Online Services. Nothing in the Terms grants you a right or licence to use any trade mark, design right or copyright owned or controlled by the BBC or any other third party except as expressly provided in the Terms.
If your website or mobile apps allows users to create content and make the content publicly available to other users, a Content section can inform users that they own the rights to the content they created and posted on your website or mobile app.
Usually, the Content clause should mention to users that they must give you (the website or mobile app developer) a license so that you can share this content on your website/mobile app, to make it available to other users.
Because the content created by users is public to other users, a DMCA Notice (or Copyright Infringement for non-US businesses) section is helpful to inform users and copyright authors that, if any content is found to be copyright infringement, you will take down the content and respond to any DMCA take down notices received.
If you have user-generated content on your website or mobile app, you're required to respond to DMCA Take Down Notices. For more information, read DMCA In Terms And Conditions.
Here is a list of questions that can help you determine what to add in your own Terms and Conditions:
Can users create an account on your website?
Can users create or publish content on your website?
Is the content published by users available publicly?
Can users send you copyright infringement notices?
And so on.
Enforce Terms And Conditions
While creating and having a Terms and Conditions is important, it's far more important to understand how you can make the agreement enforceable.
You can enforce a Terms and Conditions agreement between you and your users in various ways, but eventually it depends on your website:
Are you a presentation website, where users can't register or contribute to your website?
Are you a user-generated content web site, where users register, create an account and contribute content to your website?
And so on.
For more information on the enforceability of legal agreements, read the Browsewrap vs. Clickwrap guide.
eBay uses 2 notices to enforce their User Agreement.
The footer of eBay has this text:
Use of this Web site constitutes acceptance of the eBay User Agreement and Privacy Policy
It links directly to their User Agreement and Privacy Policy page:
Because of the position and how it's linked, these are called browsewrap agreements.
But more notice of the legal agreements that users would be bound to is given to those who register for a new account:
New users, in order to register for an account with eBay, must agree that:
They have read and accepted the User Agreement and Privacy Policy of eBay
They agree that they may receive communications from eBay and can change the preferences in My eBay section of the web site
They are at least 18 years old
This is a variant of a clickwrap agreement, where the website gives proper notice to users about the legal agreements before users do a certain action, e.g. register an account.
Facebook is another example:

Engine Yard uses the clickwrap agreement with the I agree check box:

A Terms and Conditions is not mandatory by law, but it's recommended that you have one in order to prevent abuses and set the guidelines and rules for using and accessing your website or mobile app.
A Privacy Policy is mandatory by law if you collect personal information from users.
Before you publish the agreement online, make sure your Terms and Conditions includes important disclosures, such as:
Termination of using or accessing your website or sections of your website to prevent abuses
Governing Law disclosure to inform which country laws are governing the agreement
Contact details to inform users how they contact you with questions regarding your legal agreements and its provisions
Download Terms and Conditions Template
Download the Generic Terms and Conditions template
This free Generic Terms and Conditions Template is available for download and includes these sections:
Introduction
Termination
Links To Other Websites
Governing Law
Changes
Contact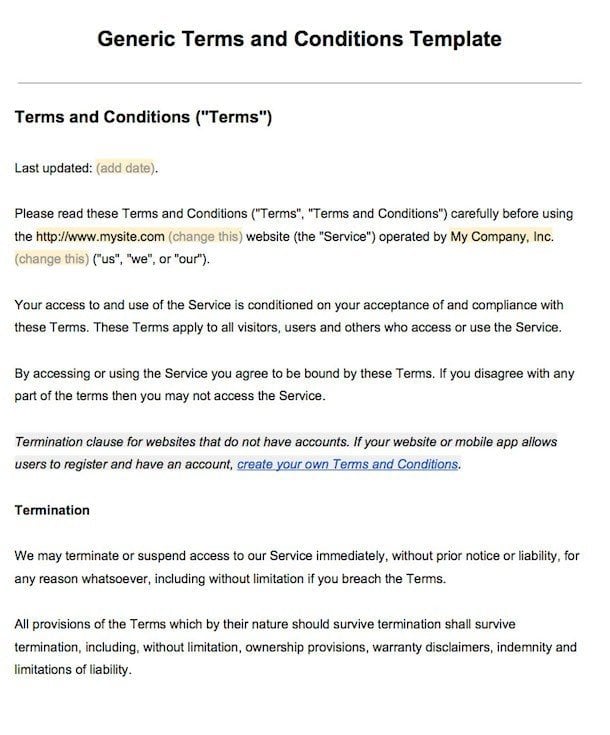 Use the Terms and Conditions Generator to create your own Terms and Conditions agreement.